It usually happens right before I need to blog a wedding and right after I blogged one. My mind goes blank and clicks a pause button and I simply can't blog. Of course there are exceptions, but rarely. This week I hit a block again and instead of giving in, I fought hard over it to find inspiration to blog and to work. I find inspiration in many things: Tchaikovsky, card making, driving, people watching at coffee shops, just to name a few. But there is one that never fails. Baking. I heart baking and when my creative juice is low, baking usually does the magic. I love how Bonnie defines baking, "Baking is a reminder that unlikely things, made up of different textures, some threatening to ruin the other, can come together and make something beautiful. A little like life right?" I totally agree. Oh and there is one other reason I love baking. The dough. Just ask my younger sister. I love it is an understatement. There is nothing like trying a lot little of it right before it goes into a hot oven. It forecasts something absolutely delicious coming in an hour of baking time.
A few weeks ago my friends introduced me to a very berry coffee cake at Starbucks. For some reason I've never noticed it before. Of course I had to try making it. After a quick stop at Trader Joe's for some frozen berry mix (blackberries, blueberries and raspberries), I was all ready to go. I used my traditional coffee cake recipe from one of my favorite people, Phyllis Cook, (with a last name like that she's got to have the best recipes), and this time around I added three table spoons of sour cream into the batter, as one very berry recipe advised. A side note: the sour cream made no difference, so save those three spoonfuls on something else. My goal was to have some coffee cake with a cup of coffee for breakfast, so I started somewhat early on the baking. By 9:30 a.m. I enjoyed the most delicious coffee cake yet. Who would have thought that mixed berries would blend so well with the cake? Yum! Oh, and believe it or not I still left some for you, so come on over and grab some deliciousness! Happy baking Thursday!
Yuliya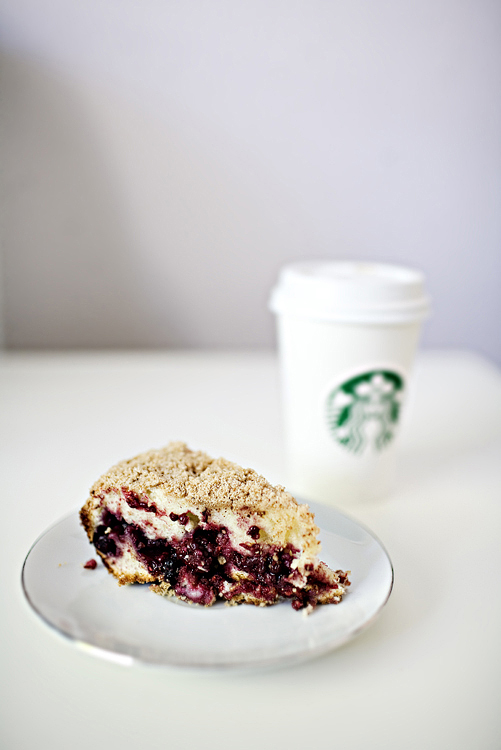 And since you asked, here is the recipe:
Cream 1/4 cup shortening (or butter) with 1 cup white sugar. Add 2 eggs, one at a time, beating well after each addition. Stir in 1 1/2 teaspoons vanilla extract.
On the side combine 2 cups all purpose flour, 1 1/2 teaspoons baking powder, 1 teaspoon salt; add to the creamed mixture alternately with 1 cup milk.
Pour into a greased 9 inch square baking pan, or a round pan. (If adding berries, pour in half, spread the berries, then cover with the other half of the batter)
In a bowl, combine 1/2 cup flour, 1/4 cup brown sugar, 1 teaspoon cinnamon; cut in 3 tablespoons cold butter until mixture resembles coarse crumbs. Sprinkle over the top of the batter. Bake at 350 for 55-60 minutes or until a toothpick inserted near the center comes out clean. Cool on a wire rack. Yields 12 servings. Enjoy 😉
PREV. ITEM
NEXT ITEM
READ COMMENTS -
2 COMMENTS