"Waiting for inspiration to write is like standing at the airport waiting for a train." -Leigh Michaels "Conditions to produce one's craft are rarely ideal, and waiting for everything to be perfect is almost always an exercise in procrastination." -Erin Rooney Doland
Last week I had dinner with a few of my friends and after striking a conversation about the benefits of being self employed one of my friends expressed that she would very much so like to make her own hours, when she feels like working, because inspiration leads to productivity. The sad or actually the funny thing is that one wouldn't work a day in their life if all they needed was that state of mind and desire. For most of us creatives, inspiration is not served with breakfast at 7 a.m., in fact we must work for it. Which leads me to another post of Quotable Thursdays. This time around I had way too many quotes to choose from and all from one read I received as a gift from my friend Doru sometime back in July.
I knew this book was special from when I first touched the cover. I still enjoy sliding my hand against the almost velvety black cover and the embossed lettering. Not only is it filled with so many practical things for every day work, but I especially enjoy the care that was put into the book's formatting. The layout, the section for key takeaway, yes this book comes with a few pointers you should remember from a section, and on top of that there are interviews and questions and answer sections, which make the book reading much more fun! In case you're wondering, it will probably reappear on my blog again, but for now I'll leave you with one more quote I enjoyed. Happy Thursday!
"Musicians have day jobs, poets are also professors, and feature filmmakers shoot commercials on the side. Like it or not, we are constantly forced to juggle tasks and battle unwanted distractions-to truly set ourselves apart, we must learn to be creative amidst chaos." Erin Rooney Doland from Manage Your Day-to-Day: Build Your Routine, Find Your Focus, and Sharpen Your Creative Mind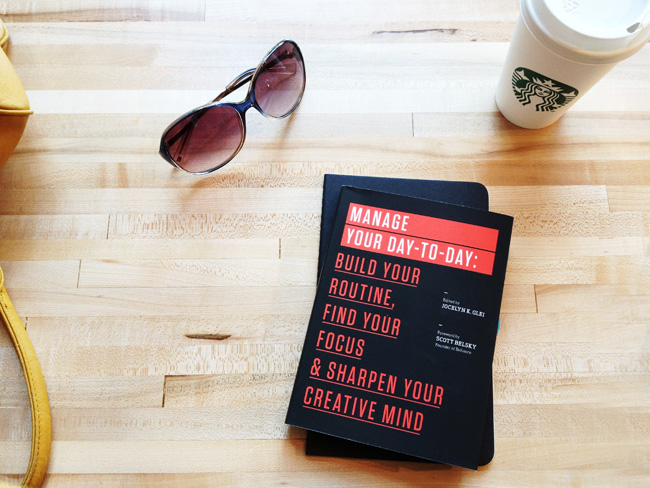 PREV. ITEM
NEXT ITEM
READ COMMENTS -
2 COMMENTS