We went back and forth for a few minutes with her accusing me and me trying to defend my self best I could. "I've never heard that story," Dinah started. "NO, I'm preeeetty sure I at least told you about it." "But I don't think you've ever blogged it." "Well, I'm sure I told it to someone at some point in time." Trying really hard to keep our spring break tradition to enjoy some Israeli food, and at the same time visit some of our other favorite places in town, we were out of luck when it came to the places that actually served falafels. I jokingly answered that she can always ask them for falafels even though they don't serve falafels there, because that's how they do it in the Middle East, and referenced that one incident which I was convinced she knew about. To my surprise my sister admitted she'd never heard that story and couldn't believe that I kept it all to myself, aaaaand threatened me that I better blog it! Now you know how some stories make it to the blog, my life is in danger if I don't write them!!!
I happened to run into a college friend this past weekend who lives in Jordan now. After going on about our love for the Middle East with its flavors and colors, I couldn't help but remember the amazing flat bread and labaneh, rich cream yogurt mixture, which I had daily during my short stay in Jordan and the story, which as Dinah claimed, I have yet to share on my blog. On my return to Israel from Jordan, I stopped at the first cafe, just inside Damascus Gate, and asked the owner if he can serve me some labaneh! The sun-tanned middle-aged Arab dropped everything, offered me to sit on the evenly-cemented patio separated by a railing from the busy noise and the ever flowing traffic of the surrounding shops, and went on a search for my off menu item! Taking in the sunshine and the beautiful symphony created by the harsh sound of Arabic coming from the market, the sound of the many sandals stepping on the smoothly-polished cobbled pavement stones, and the wheeled carts full of fresh herbs and produce, pulled by their owners right through the traffic, I couldn't help but fall in love with the Middle East even more. They don't serve it, but they'll find it for you! And aren't you glad that Dinah made me share this story?
And since posts are better with a photo, here's one of a rooftop in Jerusalem. I saw this once while taking a walk along Jerusalem's Turkish walls and hope to find an access to it one day!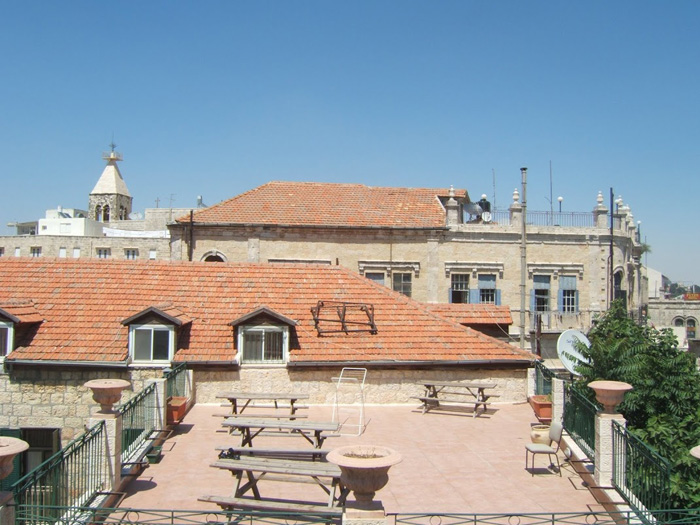 PREV. ITEM
NEXT ITEM
READ COMMENTS -
1 COMMENT